How Your Purchase
Impacts our community
One of TaCaBu's core values is to make a positive impact on those around us. Whether that is helping our client organize their "marketing closet" so they can better focus, or helping them achieve a marketing objective that will make them a Hero, it makes no difference.  We take joy in it all!
Because we believe we should leave people better than we found them, TaCaBu has committed to give 5% of the proceeds, on any order we receive above $1,000, to one of five world-impacting organizations below. It feels great to give so we want to share that with our clients!
Each charity has information to help you make your choice.  In addition, their website link is included if you would like further information about their world impact.
Convoy of Hope was founded in 1994 by the Donaldson family. Their inspiration for starting the organization can be traced back to the many people who helped their family after their father, Harold, was killed by a drunk driver in 1969. Today, more than 115 million people have been served throughout the world by Convoy of Hope. We are proud that we work through churches, businesses, government agencies, and other nonprofits to provide help and hope to those who are impoverished, hungry, and hurting.
Convoy of Hope is a faith-based, nonprofit organization with a driving passion to feed the world through children's feeding initiatives, community outreaches, and disaster response.
As a faith-based, international, humanitarian-relief organization strategically based in Springfield, Missouri — the crossroads of America — our goal is to bring help and hope to those who are impoverished, hungry and hurting.
We do this by:
ENGAGING
Each year — in dozens of communities throughout the nation — guests of honor receive free groceries, health and dental screenings, haircuts, family portraits, hot meals, job-placement assistance, and much more at our signature events.
CARING
We partner, resource, and empower rural churches through training, mentoring, and coaching so they can enhance their presence in their communities. The strategy works best when church leaders partner with community leaders and stakeholders.
NOURISHING
More than 200,000 children in 14 nations are being fed nutritious meals by us. The food opens doors for education, clean water, a sense of hope and much more. Currently, we are feeding children in the Philippines, El Salvador, Nicaragua, Honduras, Haiti, Kenya, Ethiopia, South Africa, Tanzania, Uganda, Nepal, Sri Lanka, India, and Lebanon.
GROWING
We equip vulnerable farmers and families with the skills, tools, and seeds to produce life-sustaining crops through the agricultural work we conduct throughout the world. Each year, tens of thousands of meals are harvested for our children's feeding work and income is generated for farmers.
RESPONDING
Consistently among the first to respond to disasters throughout the world. We are highly regarded for our scalable distribution model, Disaster Response teams, six international warehouses, and Mobile Command Center.
PARTNERING
We empower like-minded organizations who are doing good work among the poor and suffering in their communities. This is accomplished by providing such friends with food, water, supplies, and much more.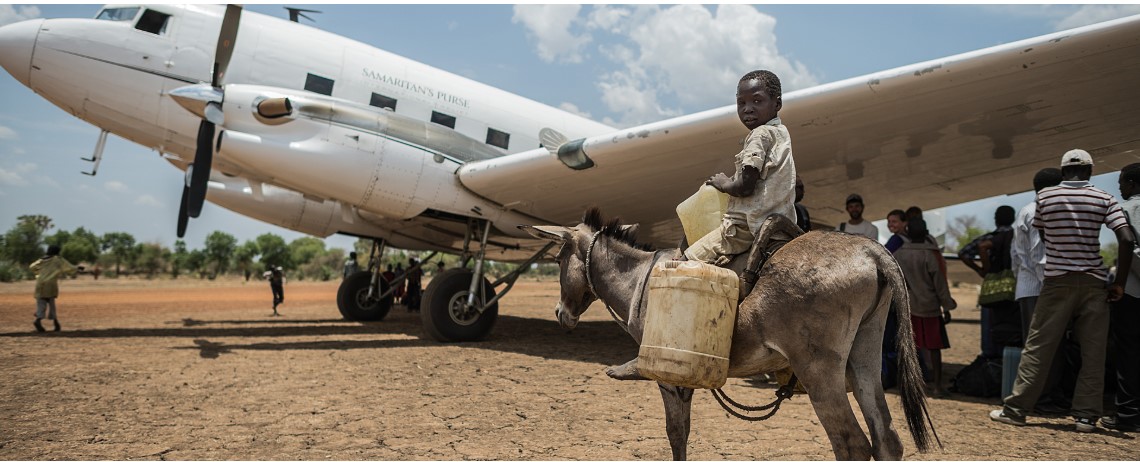 The story of the Good Samaritan (Luke 10:30-37) gives a clear picture of God's desire for us to help those in desperate need wherever we find them. After describing how the Samaritan rescued a hurting man whom others had passed by, Jesus told His hearers, "Go and do likewise." For over 40 years, Samaritan's Purse has done our utmost to follow Christ's command by going to the aid of the world's poor, sick, and suffering. We are an effective means of reaching hurting people in countries around the world with food, medicine, and other assistance in the Name of Jesus Christ. This, in turn, earns us a hearing for the Gospel, the Good News of eternal life through Jesus Christ.
As our teams work in crisis areas of the world, people often ask, "Why did you come?" The answer is always the same: "We have come to help you in the Name of the Lord Jesus Christ." Our ministry is all about Jesus—first, last, and always. As the Apostle Paul said, "For we do not preach ourselves, but Jesus Christ as Lord, and ourselves as your servants for Jesus' sake" (2 Corinthians 4:5, NIV).
Your gift will be donated to the "Where Most Needed" fund. Your gift to "Where Most Needed" equips Samaritan's Purse with the resources—including personnel, materials, supporting services, buildings, and equipment—to fulfill our mission of relief and evangelism worldwide.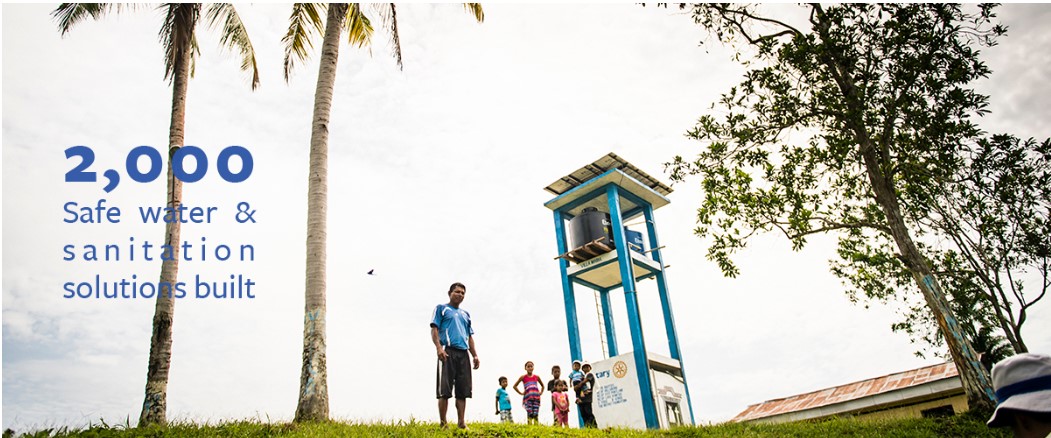 We believe that the global water crisis can be solved, and we take a comprehensive approach to combating the crisis with water, sanitation and hygiene (WASH) solutions. We design customized solutions for each community we serve, and we partner with the recipients throughout the process. A successful project results in more time for work and education, improved health, and increased productivity for the community. We have provided safe water, sanitation and hygiene (WASH) solutions in more than 55 countries and have over 250 staff members working around the world in permanent country programs.
Water Mission is headquartered in N. Charleston, South Carolina, with over 50 staff members including engineers, community development specialists, researchers, and administrative professionals. Headquarters staff work closely with permanent country programs to design safe water, sanitation and hygiene (WASH) solutions for communities located in Africa, Asia, Latin America and the Caribbean.
Your gift builds safer water solutions for individuals and communities around the world. It will be given to "Where Needed Most" fund.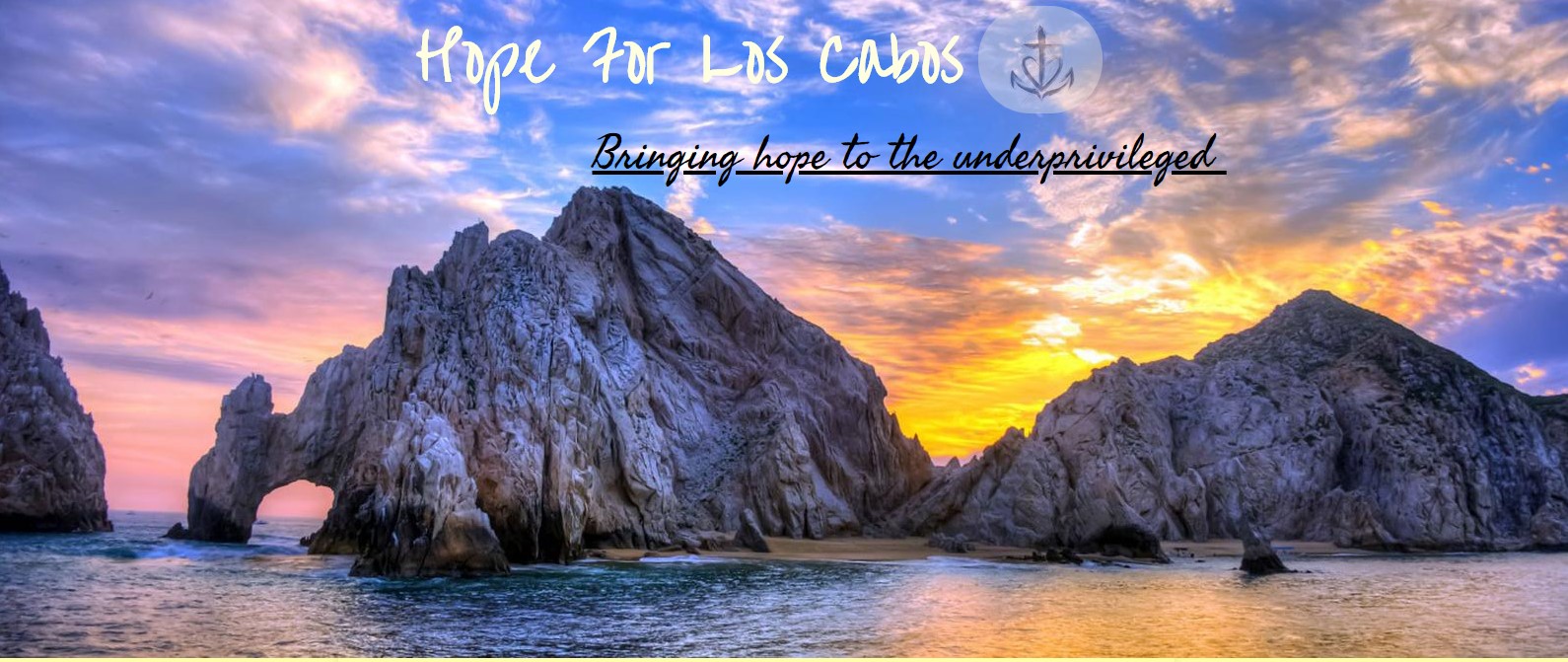 Hope for Los Cabos is a non- profit organization founded by David and Jennifer Limpert focusing on the needs of the underprivileged in Los Cabos. David and Jennifer live in Cabo full time with their 13-year-old son Adam. Their programs include the following:
Fishing for Food, which has provided over 190,000 meals to those in need over the past four years.
Family Support, providing food, shelter, school supplies, etc. to families in need.
Construction Projects, providing bathrooms, houses, community centers, retaining walls for storm protection, shade, etc.
University Scholarships, providing full scholarships for students who show tremendous potential but live in great poverty and would never have the chance to go to college. $150 a month sponsors a college student 100%.
School scholarships for elementary age children, providing them scholarships to go to private school. Public schools in Mexico only meet a few hours a day.
$150 a month sponsors a student 100%.
Feeding Center, providing meals for children in the Barrios on a consistent basis. We built and support this center with food, water, electricity, supplies, and repairs.
Any donations are greatly appreciated. 100% of your donation goes toward one of our programs. No donations are taken for administration purposes.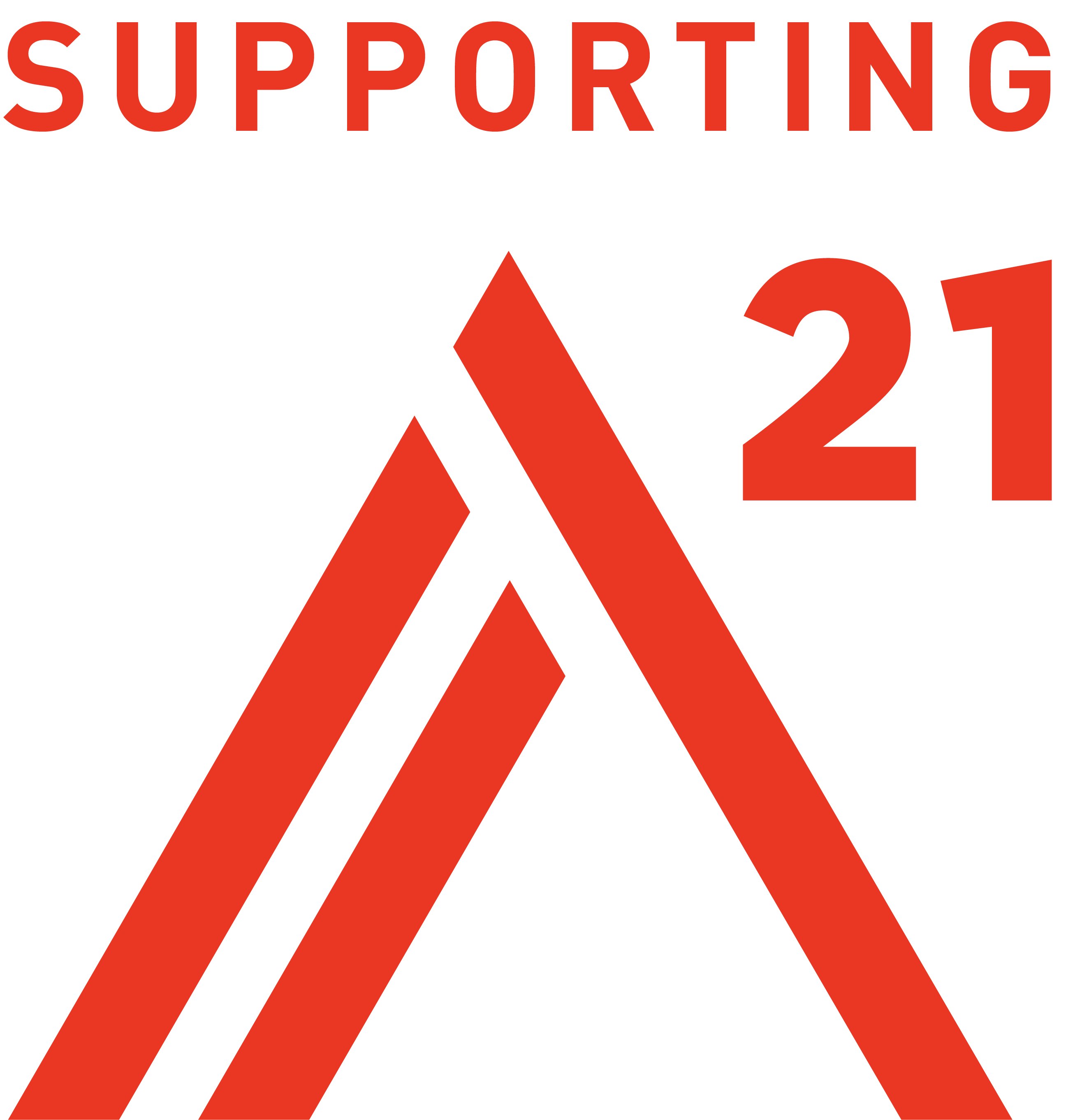 Mission: Abolish Slavery Everywhere, Forever
A21 is a global anti-human trafficking organization that combats modern-day slavery through a multi-dimensional, operational strategy: Reach, Rescue, and Restore. Through partnerships and efforts of supporters all across the globe, we truly believe that slavery can be prevented, that victims can be identified and assisted, that perpetrators can be brought to justice, and that more survivors can step into a life of independence.
Our REACH strategy reduces vulnerability through prevention and awareness events, and educational materials that empower people to take action - preventing slavery from ever happening in the first place.
Prevention
Awareness
Education
Events
Campaigns
Social enterprise
Our RESCUE strategy assists victims by training frontline professionals on victim identification, working closely with law enforcement on the ground to support police operations, identify victims through our hotlines, assist exploited children through our Child Advocacy Center, represent survivors in the prosecution of traffickers, coordinate legal services, and collaborate with governments and other NGOs to eradicate slavery at every level.
Training identifiers
Hotline
Child Advocacy Center
Victim Identification Operations
Legal Assistance coordination
Our RESTORE strategy empowers survivors through individualized support, holistic aftercare, and community engagement-working face-to-face with every survivor to provide care that helps them reach a place of safety and independence in their own community.
These programs are geared toward seeing survivors thrive
Community model (Freedom Center)
Tiered aftercare support
Life programs
Residential care
SAFE repatriation
Through your giving, you are fueling A21's operational strategy