Turn to Us for Creative Solutions
to Promote Your Brand
Promotional products are the most high-impact, cost-effective advertising medium around, according to the Global Ad Impressions Study, 2019 (ASI). Did you know 85% of people remember the advertiser on a promotional product?
The effectiveness of branded merchandise lies in how they involve your senses. Because branded merchandise allows your audience to physically interact with your brand, you create a personal connection to the receiver. Capturing the attention of an audience in today's fast-paced, data driven environment is a challenge. It's about the experience…the "unboxing". Promotional products provide that experience. Who doesn't like a free gift?
Take a look!
idea generators below
PLANET FORD
GRAND OPENING EVENT FOCUSED ON BRAND RECOGNITION
Planet Ford turned to TaCaBu to help create an unforgettable event for their community, clients and friends.
It was a Grand Opening Event fit for a King! Planet Ford appealed to all the senses, planning a multi-sensory event packed with events and features to make even the dullest senses stand at attention!
Their goal of imprinting a positive brand message to the attendees was reinforced through branding EVERYTHING!
Academy Sports + Outdoors
EMPLOYEE MAILING
TO BOOST MORAL
Academy wanted boost morale and thank their remote Customer Care associates. They reached out to TaCaBu for ideas. Academy had a firm budget and a tight deadline.
TaCaBu jumped into action and created a "Peak Survival Kit" that fit right into their budget! The kit included self-care items along with a thank-you note. TaCaBu received all items, kitted them and delivered completed kits on time to Academy Sports + Outdoors.
The project lead was pleasantly surprised at the overwhelming response from their remote employees. She never imagined that, what she interpreted to be a small budget, the mailing would have such a positive affect on morale.
Academy has since done several more of these types of kits for different employee groups. 
TaCaBu wanted to capture the attention of C-Level Executives with a multi-part mailing.
Our messaging centered around tools that have value. TaCaBu sent out the toolbox that held one of the tools. It was followed-up with a four-part box mailer containing one more tool to add to their toolbox.
The key to any promotion is a comprehensive, specific follow-up plan. After each piece went in the mail, we reached out to the recipient through several channels.
Practicing what we preach, the promotion included, promotional products, print, kitting and creative packaging.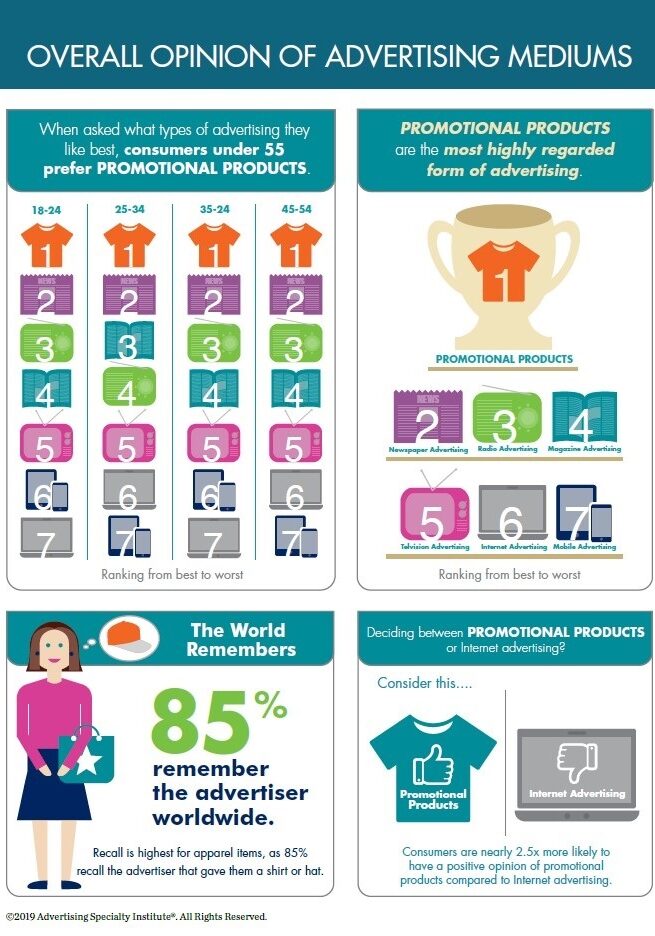 2019 Advertising Specialty Institute's Ad Impressions Study
The ASI Ad Impressions Study was first launched in 2006 by ASI's research team. The findings in the study are
based on thousands of in-person and online surveys taken by consumers in the US, Canada, Mexico and parts of Europe.
This survey answers questions about promotional products' reach, consumers' perceptions of them and how branded
products influence buying decisions and products' impact on consumer opinions of the advertiser.
ASI Market Research undertakes this important study to show the power of promotional products among consumers
on a global scale, and their affordable cost-per-impression as compared to other forms of advertising.
Nearly 9 in 10 consumers own a promotional Pen and Drinkware
51% state they would be more likely to do business with the advertiser that gave them the writing instrument
63% of consumers keep their promo T-shirts for over a year
1/3 of men wear their promo hat weekly or more often
67% of millennials have a more favorable opinion of an advertiser who gave them a promo Desk Accessory
Here are some of the brands we serve. How can we help strengthen your brand?